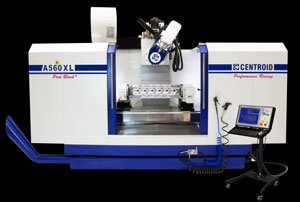 A560 5-Axis CNC Articulating-Head Porting Machine
Large machining envelope and 120° of head tilt provide unmatched capabilities
The A560: a new revolution in cylinder head porting and machining. Whether you need to port long V12 or diesel cylinder heads, have a large production volume of heads to port, or have a specialty application requiring extreme angles, the CENTROID A560 is the only choice. Included in the A560 turn-key package is all the tooling, expert training, and outstanding customer service and support you need to be successful.
Quick links: A560 Brochure (PDF) | Request a quote or in-person demo | Find your local representative
A560 Turnkey Package Includes:
Patented 5-axis machine
M400 5-axis CNC control
Mastercam 5 axis CNC software with Port Expert.
10 days of personalized CNC porting training
Digitizing probe & software
Carbide lollipop porting tool
Auto tool length setter
Cylinder head fixture plate
Tool holders
MPG electronic handwheel
Industry's best warranty & support
The A560 can port cylinder heads from a wide range of engine configurations: V12,V10, V8 heads, V6, Inline 6, 5 and 4 cylinders, Import, Motorcycle, Gas and Diesel engines. The CENTROID porting system overcomes limitations of other cnc porting machines with its unique and patented technology which provides better ports with seamless transitions.



The A560 has the capacity to CNC port long cylinder heads such as inline 6 cylinder gas and diesel heads. CENTROID has simplified the porting process, now you can digitize a head in the morning and be cutting perfect copies in the afternoon. The combination of accuracy, repeatability, training and support allows our customers to produce the most powerful race winnings heads on the market.
Patented Ballscrew Design

CENTROID's ballscrew drive articulating head was designed specifically for CNC Cylinder head porting. Made in the USA of rigid cast iron, the articulating head provides 60 degrees of tilt in each direction (120 degrees total) so the tool can cut even the most radical ports. The design of the A560 minimize tool motion for fast smooth cutting action. The unique ballscrew drive of the articulating head produces the smoothest 5 axis action on the market. The design also overcomes back lash and maintenance problems found with our competitors machines. Where others have tried CENTROID has succeeded with this ingenious robust design which produces fantastic ports.

Versatile CNC Machine

Multi use machine: Port Cylinder heads and intake manifolds, machine combustion chambers, engrave letters, numbers and symbols, add o-ring grooves and more. V8 heads, V6 and 4 cylinders, Import and motorcycle engines.

Perfect Port Matching!

No other machine matches the accuracy of the the CENTROID porting system. Our superior combustion chamber side to manifold side matching guarantees that your design is being machined right where it is supposed to be.

Digitize and cut on the same machine

As with the CENTROID A532, the A560 also has the capability to digitize in five axes. So, there is no extra machine to buy or out-of-house digitizing expense. The A560 comes equipped with on-machine 5 axis automatic cylinder head port digitizing. Copy and cut a head in less than a day, start to finish.

More than just a porting machine!

With it's +/-60° of head-tilt and a generous work envelope, the A560 excels at machining complex and difficult to fixture parts... making it well suited to a variety of applications beyond cylinder head porting.

Integrated Automatic 5-axis Digitizing!

Digitize and Cut using the same machine and the same control software. No extra software to learn, no extra CMM machine necessary to digitize a head. The same setup menus used to cut are used to digitize. Real 5-axis Digitizing method is a CENTROID exclusive time saving feature that produces better results than the competition. No comparison to the 3 axis patch method the CENTROID 5-axis intake and exhaust port digitizing is fast and accurate. No other system can beat it!

Designed for Cylinder Head Digitizing

CENTROID's DP-4 probe and software is specifically designed for digitizing cylinder head intake, exhaust ports and combustion chambers. This patented probe has special features just for cylinder head copying. Simple for users to specify copy resolution for the most accurate and best results.

Automatic Head Setup

Not only is the probe used to copy your custom shapes, the same probe automatically sets the Head zero locations on the fixture. Quick, Accurate, Automatic part setup saves you time and makes setup simple.

Ultra accurate, stainless steel construction, advanced patented circuitry, interchangeable styli, Made in the USA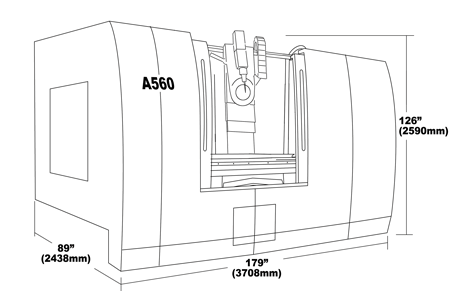 Machine Specifications

Table Size
66.9" x 23.6" (1700 x 600mm)
Longitudinal travel (X)
58" (1473mm)
Cross travel (Y)
26" (660mm)
Vertical travel (Z)
34" (863mm)
Spindle nose to table top
39" (990mm)
Spindle center to column
30" (762mm)
Maximum table load
2200lbs (1100kg)
Spindle power
20 Hp

Spindle taper
CAT 40
Spindle speed
20,000 RPM

Rapid feed rates (X,Y,Z)
1300 IPM (33020 mm/m)
Guide ways
Linear Guide way X,Y,Z
Accuracy
0.0005" (0.0127mm)
Repeatability
0.0002" (0.0060mm)
Axis drive motors (X,Y,Z)
2.9 Kw X,Y 4.5 Z AC Brushless Servos
Coolant pump
460W 110 Gallon Capacity
Auto lubrication pump
150W 1.75 Liter Capacity
Power requirement
50-60Hz, 208-240v, 3-Phase 60A
Air requirement
90-100 PSI (6.2-6.8 Bar)
Machine Footprint

Length
179" (4546mm)
Width
89" (2260mm)
Max. Height
126" (3200mm)

Shipping Footprint

Length
162" (4115mm)
Width
90" (2286mm)
Height
112" (2845mm)

Weight

Machine
16,000lbs (7257Kg)
Machine Features:
M400 CNC control, Touch screen, Windows 7 OS, Quad core processor, SSD,USB,Wifi
+/- 60° (120° total) of head tilt
Full Enclosure w/ chip auger
20 Hp 3 phase 10,000 RPM spindle
Laser calibrated for high accuracy
C5 double nut ballscrews
Heavy duty linear ways
Arm type ATC 24 tools
Meehanite Casting Stress relieved
Spindle chiller
Auto Tool Coolant system
Telescopic steel way covers
Auto central lubrication system
Disc type oil/coolant separator
Safety glass front
See the A560 in action!
| | |
| --- | --- |
| | See a Toyota 6 Cylinder 4 Valve head being CNC ported. The A560 Articulating Head Machine saves machining time and produces the best combustion chamber to manifold side transistions. |
Related videos:
| | |
| --- | --- |
| | If you didn't get a chance to make it to the 2012' Performance Racing Industry Trade Show in Orlando FL, check out what you missed in this video of the action at the show. |
State-of-the-art CNC Control

Made in the USA, the CENTROID M400 comes from a long history of tough industrial CNC controls. The CENTROID CNC is known for its user friendly operator interface combined with powerful features which produce superior cuts and finishes with less work on your part. Simple setup menus guide you thru the process. Advanced CNC features like: Windows 7 OS, SSD (Solid State Drive), Internet ready with remote access/support, Touch Screen, Unlimited file size with accell/decell look ahead provides smooth continuous tool motion. USB 2.0 ports and Ethernet for easy file transfer. Stop and restart at any point. Program tool path graphics. The CENTROID is a fast PC based CNC with updatable software so you are always using the latest technology. Operator friendly floor stand is convenient and comfortable to use.

Mastercam CAD/CAM Software with PORT EXPERT!

The latest Multi Axis Mastercam software with a one year maintenance agreement is included with every machine. We teach you how to use Mastercam to create perfect CNC ports every time. This powerful package opens your digitizing data and creates the program to port the head, also allows you to tweak hand ported designs if necessary. The CENTROID/Mastercam CNC porting system has sigficant advantages both in cost and effectivness while at the same time is the easiest to learn and the best supported porting package on the market.

All the software needed to digitize and recreate Cylinder Head Intake and Exhaust ports along with Combustion chambers is included with every CENTROID CNC porting machine. There is no extra software or equipment to buy. Our renowned one-on-one CNC porting training ensures you will be CNC porting heads faster than any other system on the market.